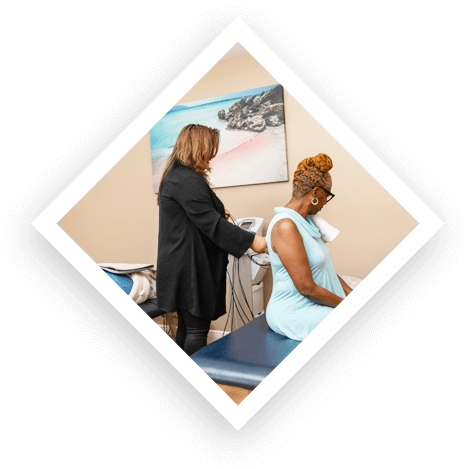 Testimonials
Dr. J and his staff are top notch. I am so pleased that my health coach recommended him. My pain level has decreased dramatically!

- Elane H.

I have tried all types of treatments for hip pain. Dr. J has been able to give me the best results. He is thorough with different modalities and does not rush our visits.

- Elaine H.

Dr. Desulme is pleasant and caring and helped me with my back, knee and hip issues. I always had some sort of indifference and some fear about going to a Chiropractic doctor but those fears were lifted with the helpful staff and treatment received by Dr. Desulme. Thank You!

- Laurie D.

As an experienced personal trainer and Pilates instructor (over 20 years) I highly recommend Dr. J. His passion for helping people and for the science of his profession shows.

- Aaron E.

Very professional physician and staff. Very knowledgeable. Listens and spends as much time as needed to get know you and your concerns to come up with a treatment plan designed just for you. Highly recommended!

- McGaha C.
Experience Organic Wellness and Join Welcome Home Family Chiropractic & Wellness Center Today
St. Petersburg Chiropractor Dr. Joubert Desulme's approach to chiropractic care is skilled, specific, and compassionate. He has cared for countless patients, including people both young and old with a wide range of lifestyles and conditions. Dr. Desulme welcomes your littlest loved ones and athletes of all ages alike to experience the benefits of organic wellness.
With the help of chiropractic care, Welcome Home Family Chiropractic & Wellness Center hopes to help you and your family live your happiest, healthiest, fullest lives.
Learn more about our practice and how we might be able to help you move closer to comfort and lasting health.