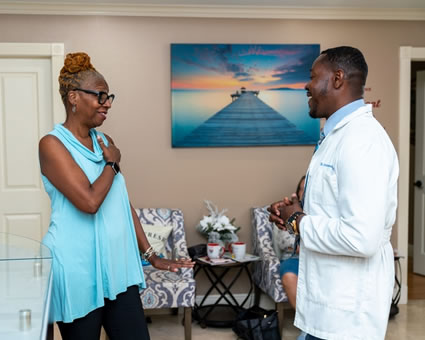 Welcome Home Family Chiropractic & Wellness Center Reviews
At Welcome Home Family Chiropractic & Wellness Center we love when patients share with us their feedback and comments after chiropractic care. Please read our patient testimonials below to see what other people have achieved through their tailored care plans with us.
Share your stories too! Click here to send us your feedback so that we can help to spread the word about the benefits of natural Welcome Home Family Chiropractic & Wellness Center care.
For more information, or to schedule an appointment contact us today.


Certainly The Best
As a registered nurse and patient, I know a good doctor when I see one. It was obvious from the first encounter that Dr. J takes great pride in his work. I was amazed at the time he took to make sure I understood my condition and answer my questions. Dr. J not only raised my bar of expectations, but has also set the new standard. If you're in search of the best chiropractor, look no further. Take it from a local native, Dr. J is certainly the best.
- Victoria O.
Love the Doctor and Staff!
I would like to say thank you to Dr Desulme and the staff, it's was a good experience
- Marie J.
Highly Recommend
Dr. Joubert is incredible. Not only has he taken great care of me, but It's rare to find a doctor that combines personal touch, care for patients and outstanding quality. His practice is called "Welcome Home Family Chiropractic & Wellness Group" for a good reason. His staff or should I say "Great medical office" provides you with a wonderful and warm experience from start to finish. I highly recommend becoming his patient because he takes the time to diagnose treatment options, is understanding and listens to your concerns.
- Steuart P.
Greatly Improved
I have been going to Doctor J for about 2 years after having gone to other chiropractors for years and I mean years with very little success or improvement to my neck and lower back. After my very first visit I had very good results. Dr J took the time to explain your problems and treatments. Also with my office visits and at home exercises my movement and pain levels have greatly improved. Now I wouldn't go anywhere else, plus everything is professional and the staff is wonderful! One of the greatest decisions I could have made for my body.
- Robert H.
Passionate and Professional
As an experienced personal trainer and Pilates instructor (over 20 years) I highly recommend Dr. J. His passion for helping people and for the science of his profession shows. He progresses you properly so you don't fear the adjustment, even starting without cracking! You won't regret working with him. The staff is also some of the most attentive around!
- Aaron E.
Friendly and Personal
This is my first time being seen by a chiropractor and I'm not gonna lie I was kinda of nervous due to the fact I didn't know what to expect, but I must say Welcome home family chiropractor office has been treating me with such great care. The staff is friendly and personal, which goes a long way in times of worrisome. I would recommend this office to family and friends.
- Nichelle D.

Welcome Home Family Chiropractic & Wellness Center Reviews | (727) 317-5738