Meet Dr. Joubert Desulme, D.C.
Chiropractic Physician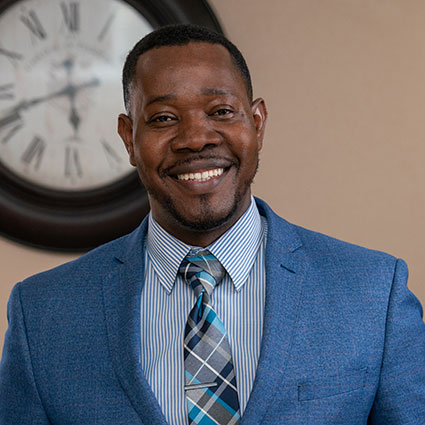 Dr. Joubert Desulme graduated from Parker College of Chiropractic with his Bachelor of Anatomy degree, Bachelor of Health and Wellness degree, and Doctor of Chiropractic degree. From the time he began practicing, his compassion for others has been his main motivation behind spreading natural health and wellness.
Welcome Home Family Chiropractic & Wellness Center reflects Dr. Desulme's passion for chiropractic care. Learn more about our chiropractor and what he might be able to do for you.
Journey to Chiropractic
After graduating high school, Dr. Desulme was involved in a severe automobile accident where he lost consciousness and woke up in a hospital three hours later. Once he was discharged, he decided to take a trip to see his local chiropractor. There, he was treated with utmost respect and began healing. Since then, Dr. Desulme has wanted nothing more than to make others feel the same way.
Dr. Desulme attended the University of South Florida, where his studies focused on Biomedical Science. He then went on to graduate from Parker College of Chiropractic with his doctorate degree in chiropractic care.
Leading with Compassion
Dr. Desulme leads with compassion. His understanding and care for others is what guides his practice. One of the principles he lives by is:
Develop a compassion to serve that is greater than a compulsion to survive."
Dr. Desulme takes great pride in his ability to focus on the needs of each and every patient that comes through the door. He works diligently not only to improve their current concerns, but to create a healthy physical, mental, and emotional environment strong enough to prevent future health issues.
EXPLORE OUR SERVICES
Outside the Practice
When he is not busy adjusting, Dr. Desulme enjoys spending time with his wife and three children. He also loves to learn. Dr. Desulme is currently working on his Diplomate in Chiropractic Neurology and is a member of the American Chiropractic Association, Florida Chiropractic Physician Association, St. Petersburg Beach Chamber of Commerce, and Upper Tampa Bay Chamber of Commerce.
Make An Appointment
Our chiropractor has the knowledge, skills, expertise, and compassion to give you the unique care you need to live your life to the fullest. Contact us today!

Dr. Joubert Desulme, D.C. | (727) 317-5738